2012-07-01 Update: A bug has been found, which may cause the game to crash when loading certain saved games. Please download and run the 1.31b unlocker to fix this.
Please note that this bug only affects the full version. If you downloaded the unlocker after the 1st of July, you probably already have version 1.31b and do not need to download this.
Masterspace v1.31 has been released, introducing new materials and objects, as well as an improved production screen. The new production screen supports more than one product per object and includes additional information and a progress bar. New objects include elevators, solar panels and an advanced material maker.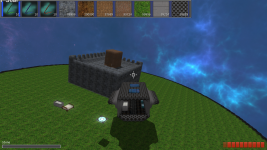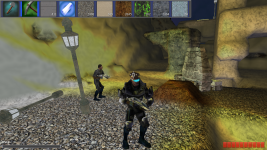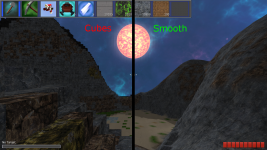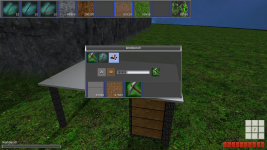 In this version, the world rendering has been updated to support texture arrays. This means that the limit of 16 different materials in the world has been lifted. A lot of new materials have been introduced in this release, including advanced starship materials such as graphene plating and power distribution grids. New terrain materials have also been added, such as ice, snow and lava. To accomodate these new materials, the planet generator has been updated to support different planet types, depending on parameters such as temperature and age.
Download the free version here:

To upgrade to the full version (for paying customers), please download and run this unlocker (requires login).
Please note that the unlocker is version specific and you need to run this after the v1.31 installation, regardless if you have installed another version of the unlocker previously.
Additionally, a lot of bugs and crashes has been fixed and the performance has been improved. Another improvement is that it is possible to move objects around using the "q" key. It is now also possible to enable cubic rendering as an option in the launcher.
New features:
New production screen with progress bar and information
Support for multiple products from each object
Support for more than 16 materials
New world and spaceship materials
New objects, including elevators, solar panels and an advanced material maker
Different planet environments
Possible to move objects (press Q to toggle)
Resources are now picked up automatically when digging if there is room in the inventory
Bug fixes:
Fixed black world textures on NVIDIA graphic cards
Fixed crash when trying to throw materials
Fixed crash caused by destruction of lights
Fixed crash in world generation
Fixed demo notification appearing in the full version
Fixed texture coordinates
Improved performance in space
Other:
Upgraded to Ogre 1.8
Reduced memory usage of planets
Extended scripting functionality
Revised scripting of object behaviour
Cubic rendering may now be enabled in the options